She has never worried that she might not succeed in the industry as a woman, and threw herself into the job with just the right amount of enthusiasm. She started as a quality assurance engineer and then grew to love waste management so much that she also completed a degree in environmental engineering. Today, she is working to make construction work green, all while being a mother of young children.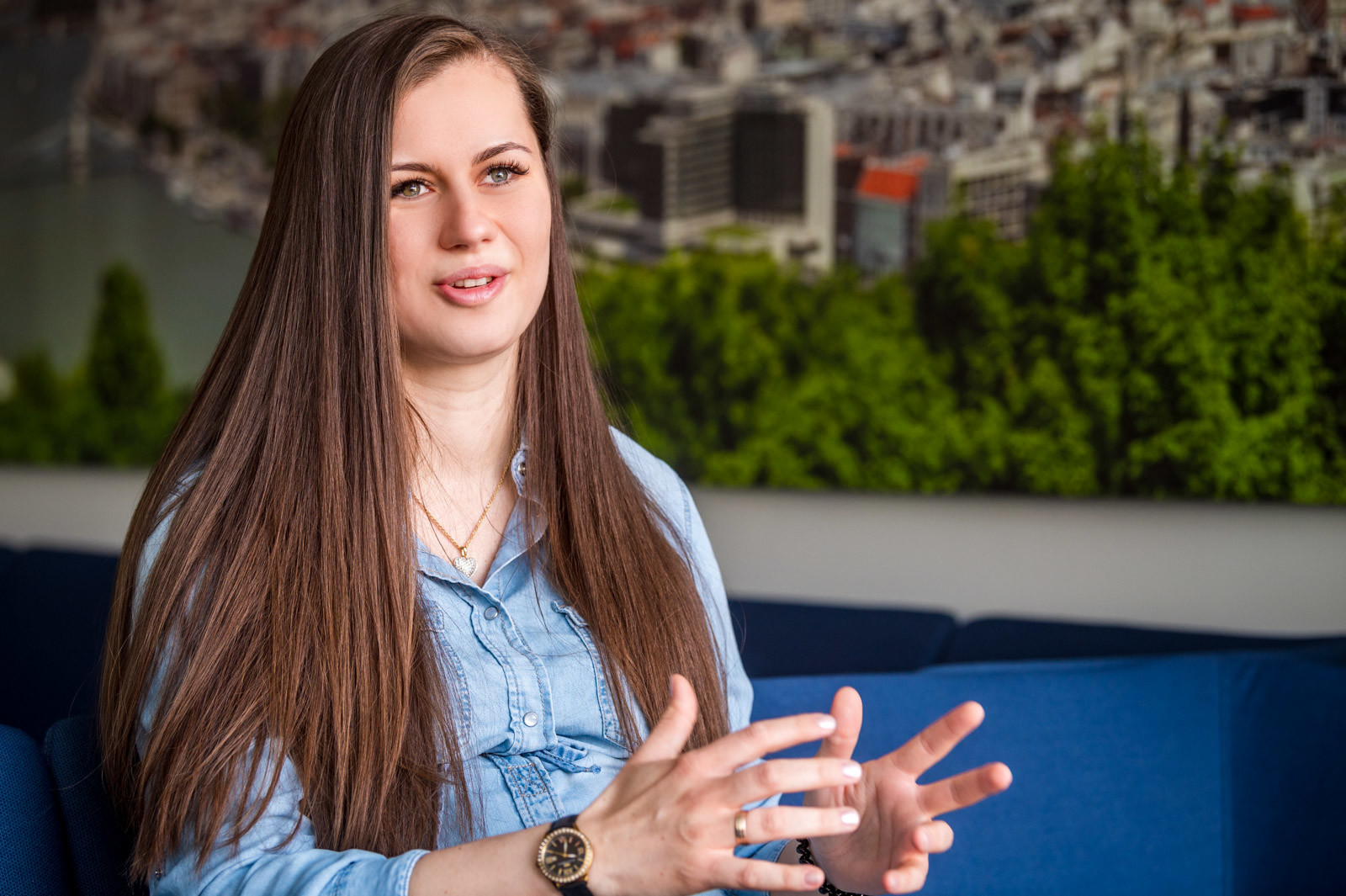 HBM is the Hungarian subsidiary of Soletanche Bachy, one of the largest special civil engineering groups in the world. Environmental engineer Fanni Kolmer-Laki has been working form them for six years now and was chosen Engineer of the Month in May. At HBM, her primary task is to implement the company's green strategy. She is also the mother of a young boy and is currently expecting her second child.
She says she has always been technically minded, playing a lot with Legos as a child and trying to build perfect houses from building blocks. Her interest was further fuelled by his father's profession who is an architect and works as a designer, but also involved in construction. All this provided a good basis for her to eventually find her vocation in the building industry.
Although she planned to pursue a career in business after high school, she also applied for a degree in civil engineering. She was eventually accepted for both, and at the last minute she decided to pursue civil engineering, a career that has been defining and filling her life ever since.
From quality assurance engineer to environmental engineer
"At university, I was most interested in civil engineering, so I knew this was the field I wanted to work in. In spring 2015, six years ago, I started working at HBM as a junior quality assurance engineer, before I passed my final exams and graduated," said Fanni.
During her university studies, the emphasis was on obtaining theoretical knowledge and preparing for a career in design, so the practical experience in civil engineering was still to come. Fanni's entering HBM gave her the opportunity to immerse herself in her field of expertise, gaining an in-depth understanding of the company's technologies and operational processes.
How did she end up, as a quality engineer, in environmental engineering?
"Over time, I had my own projects which I visited regularly, inspected and monitored the work from a quality assurance perspective. After a few months, I also started to deal with the waste management of sites. My interest in the subject and the encouragement of my boss at the time led me to apply for a master's degree in environmental engineering."
She consciously planned her career
From here there was no stopping. She completed the two-year course in one and a half years, in which the company and her colleagues greatly supported her. She became increasingly interested in environmental work while at school, but after her second degree, motherhood took her away for a year and a half. "After returning from maternity leave, I started working as an environmental engineer at HBM. I had some exciting projects to look forward to, as my return to the company was accompanied by a growing emphasis on environmental protection in the VINCI Group, which was also reflected in HBM. At Group level, we have set a target to reduce our CO2 emissions by 40% by 2030. In order to achieve this goal, we at HBM have started to monitor the CO2 emissions of the company and our projects, organise internal training to raise awareness and introduce innovations to offer sustainable solutions to our customers. We also held our first Environment Day in September 2020."
Every young, working woman wonders what will happen to her job when she becomes a mother. How can she reconcile it with motherhood, will her work be counted on in the future, what is good for her and her child, what is good for the family? But Fanni Kolmer-Laki knew from an early age what she wanted to do, and she had the support she needed to make it happen.
Surrounded by a supportive working environment
"I always wanted to be a mom when I was young, and I said so in my first interview as a university student without a degree. I never felt at HBM that family life and work were incompatible. I think that having a family has not had a negative impact on my career. I do what I'm interested in, what I love. I find challenge in both my work and raising children."
During her first pregnancy, she was also given the opportunity to work from home, and reassurance that she would be welcomed back after giving birth. She will be able to work from home after her return, which will make her daily life much easier. "Because of the distance from the city centre, I can save two and a half hours a day, which I don't have to spend travelling. This is also due to the major digital developments that are in progress at HBM. For example, I can do my work completely paperless. My supervisor is a father of several children and is therefore respectful, supportive and understanding of my private life."
At HBM, there is potential for continuous development
Her return to work was not a forced situation, but the result of a joint decision. It was supported by her family, who assured the environmental engineer that she could count on them. Her little son, who loves to go to nursery and play with his peers, is also a partner.
"My second pregnancy was welcomed, and my colleagues at work expect me to come back. I feel good, and I manage my condition well, so I'll be working until close to my due date. I like to have a lot going on around, to have something to do, to be useful," she said.
The young professional feels well-balanced, helped by the continuous development opportunities that HBM offers. In her position as an environmental engineer, she is faced with completely new situations and tasks, but the knowledge, construction experience and technological know-how she has acquired in the company are all effectively helping her to solve them. "It motivates me to be challenged, to learn new things, to not get bored. I am passionate about bringing a sustainability approach to the construction industry, which is an exciting challenge for me. I am glad that the introduction and strengthening of this approach in the industry is of paramount importance for the VINCI Group and, through it, for HBM, and they are actively working for the cause. I consider this conscious and future-oriented approach to be important, so in my work I pay close attention to closely monitoring and developing my projects from an environmental point of view, so that I can also help achieve HBM's sustainability goals," Fanni added.
As a woman, she doesn't feel disadvantaged in the industry
The building industry may not seem like a feminine career to many people, but it is no different from any other job, and professional excellence is not gender-specific. "Because of my strong character, I have never been afraid of the building industry, of having so many male colleagues and of not being able to assert myself as a woman. I think I'm confident, resilient, open and humble enough to dare to ask questions, to grow, to learn, but also to be able to make responsible decisions when I need to."
"We have not inherited the Earth from our fathers; we are borrowing it from our children"
The young environmental engineer is not talking into the air. Her vocation also infiltrates her everyday life; she also tries to make her family's life greener. For example, they selectively collect waste, recycle bottles, collect used cooking oil, and drop it off at the gas station, walk wherever possible, shop without packaging, use environmentally friendly or natural cleaning products.
"We donate our outgrown, surplus clothes and toys, and often buy second-hand clothes. I also try to pass on to my children the values of respecting, protecting and loving their environment."
Fanni Kolmer-Laki is aware of the complexity and difficulties of her career. In her view, the biggest challenge in environmental protection is sensitisation to the issue, i.e., raising environmental awareness on a wider scale.
"It's very important to adopt the right patterns and lifestyles from an early age, so that children will take for granted what is now difficult for adults, i.e., to change habits. Despite the difficulties, I would heartily recommend this career to my children, as it will become increasingly important in the future. "We have not inherited the Earth from our fathers; we are borrowing it from our children", says the adage, which reminds us that it is not sustainable to exploit our natural resources and that we must also take into account the interests of future generations."